Luxury Motorhome hire in Scotland
Scotland is one of the most beautiful countries in the world and we want you to see it in comfort and style!
*(Other countries are available)
The beauty of a motorhome holiday is that you can do anything. From Munro bagging to sightseeing, or just to relax on a road trip at your own pace. The choice is yours! With our range of motorhomes/campervans to hire, we are here to provide you with the opportunity to get away and enjoy something different, exciting and unforgettable.
If you have never been on a motorhome holiday before, do not worry! We are here to help so that you know exactly what to do. We give you everything you need and more. You will also receive a personal vehicle handover at the time of pickup and a straightforward info booklet. Prior to this, we will send you video walkthroughs and can answer any questions that you may have. We are with you all the way.
We offer a range of additional extras to enhance your experience such as bikes, paddle boards, firepits and outdoor seating. Pick and choose how you like and for something even more luxurious, we even offer prosecco and chocolates or even just a snacks package for the road.
Once you have booked your desired vehicle and dates, it's time to plan your trip. We understand that it can be overwhelming and sometimes stressful to do this and so we have created a number of routes and stop-offs for inspiration to make this as easy as possible. If you are still unsure, just ask us!
Close to all Scotland's airports.
Try before you buy incentive.
Excellent range of size and style of motorhomes.
Impeccable motorhomes at least one year old or newer.
Pet friendly motorhomes and campervans available on selected motorhomes.
Unlimited mileage - no restrictions - no extra charges.
European travel is permitted with free motorhomes breakdown cover.
Motorhomes fully maintained and checked by our workshop team.
Our motorhomes and campervans are perfect for outdoor activities from golf to water sports.
Motorhome Hire is Easy
Renting our luxury motorhomes is an easy and straightforward process
Choose a vehicle

Pick your preferred style of vehicle for hire

Choose your dates

Pick the dates you want to hire your motorhome

Add any Extras

Pick any extras you want to include with your motorhome

Pay a deposit

Pay 10% deposit to secure your luxury motorhome hire

Plan your adventure

Start planning your adventure with one of our luxuy motorhomes
What's included
To kickstart your Beyond Camping adventure, we've made sure that you are fully equipped with the essentials so you can forget about the small details and concentrate on the important stuff!
All of our luxury hire motorhomes come fully equipped with the following:
Rental Booklet
Rental USB
Plates
Bowels
Mugs
Cups / Glasses
Forks
Knives
Spoons
Teaspoons
Tin Opener
Kitchen Knife
Spatula
Cooking Spoon
Scissors
Frying Pan
Pots
Kettle
Placemats
Anti Bac Wipes
Sponge
Washing Up Liquid
Soap
Kitchen Roll
Bin Liners
Tea Towel
Toilet Paper
Toilet Chemical
Air Freshener Spray
Levellers
TV Remote Control
Mattress Protector
Steering Lock
Fuse Kit
First Aid Kit
Hi-Vis Vest
Hoover
Reserve Sign
What to bring
Bedding
Towels
Groceries
Phone Charger
We provide the rest.
Additional Items
Prosecco and Chocolates

(£25)

Table & Chairs

(£15)

Bikes

(£75)

Gazebo Tent for VW

(£30)

Snacks for the Road

(£10)

Inflatable Paddle Board

(£40)

Nespresso Machine & 10 Pods

(£30)

Fire Pit

(Free)
Pet Friendly
At Beyond Camping motorhome hire, we understand that leaving your furry companion behind isn't always the easiest, so we've eliminated this consideration and made our Rental Service Pet Friendly. This mean you can bring your furry friends on your motorhome adventure! After all, why should they miss out?
On selected motorhomes only.
Dog premium cleaning cost – £25 cleaning fee.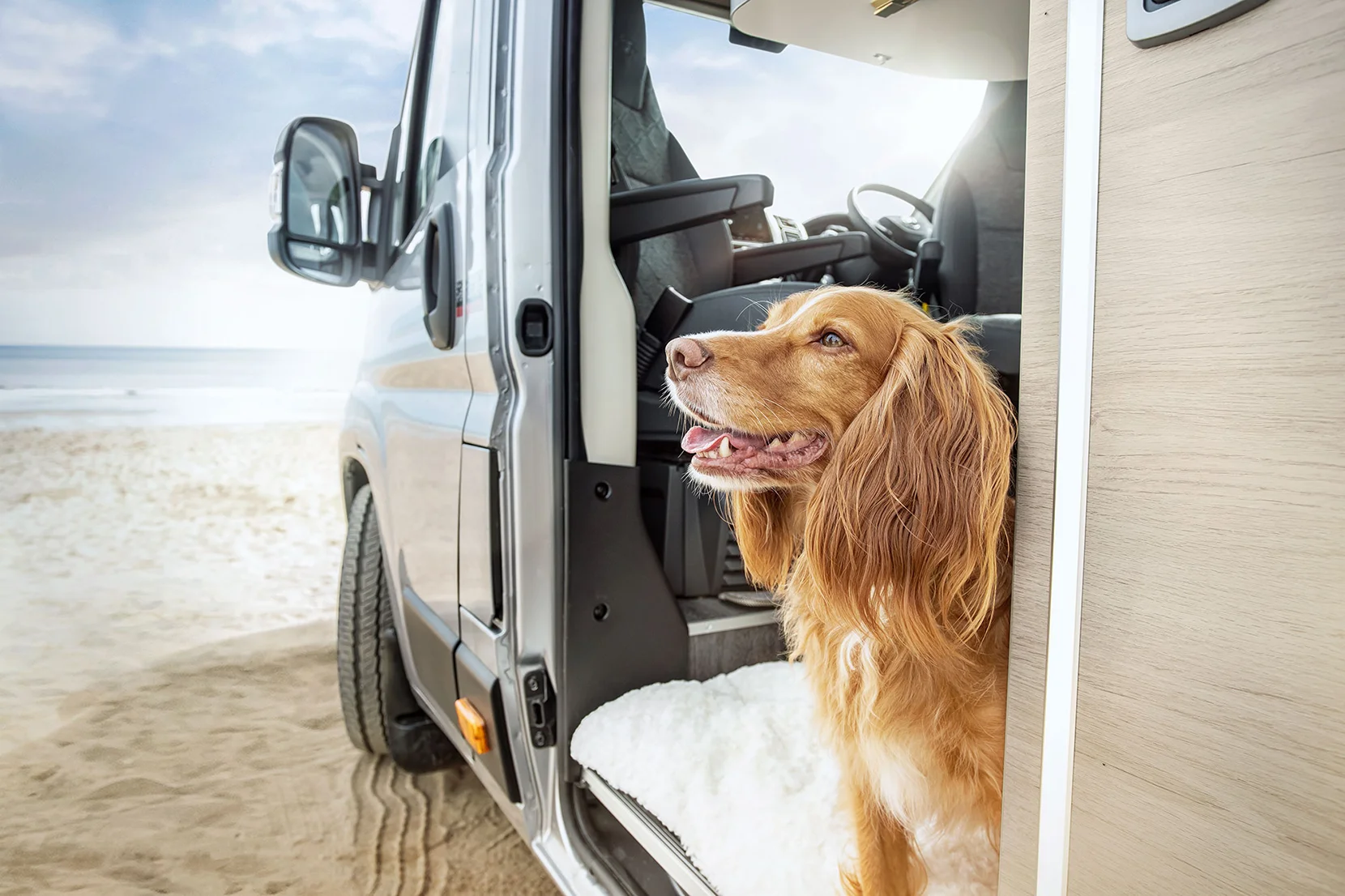 Insurance
Luxury motorhome hire insurance explained
Drivers must be between the age 21 and over in order to be able to drive a motorhome.  If the rental motorhome is over 3.5 tonnes, a category C1 license is required.
We provide fully comprehensive motorhome insurance with your rental, as well as motorhome breakdown cover within the UK. This insurance doesn't cover European travel but if you are planning to take your rental motorhome overseas, we can arrange this at an extra cost.
We request a £1,000 deposit upon booking and this is the maximum amount the customer would be liable for in the event of an accident. If there is any minor damage, then the cost of the repair is deducted from the deposit and the remaining returned.
Motorhome Handover
Here's everything you need to know when we handover your hired motorhome from Beyond Camping.
FAQs
Frequently Asked Motorhome Rental Questions
Renting a motorhome offers the freedom to travel at your own pace, the convenience of having your accommodations with you, and the opportunity to explore multiple destinations in a single trip.
Drivers must be between the ages of 21-75 to be able to drive a motorhome. If the rental motorhome is over 3.5 tonnes, a category C1 license is required.
You can make a reservation online through our website, over the phone, or in person at our rental office.
Unfortunately, no. In the event of any damage or any other reason that would make the vehicle booked unavailable – we would provide a suitable alternative. Damage is unavoidable and sometimes needs repaired before it can be rented again.
Collection- 10am on first day of hire and return 1pm on last day of hire. Additional £50 cost for early collection or late returns. Fixed rental terms: 3, 5, 7, 10 or 14 nights
No unlimited miles are free of charge.
Yes, we offer one-way rentals that allow you to pick up the motorhome at one location and return it to another. Additional fees may apply.
Our motorhomes come equipped with a kitchen, bathroom, sleeping areas, dining space, and storage. The specific amenities can vary by model.
Minimum rental periods may apply, especially during peak seasons. Check with us for details on minimum rental durations.
We do allow pets in some of our motorhomes, but it's important to confirm our pet policy in advance. Additional cleaning fees may apply.
There is no milage limit.
Check our 'What's included' section.
We provide roadside assistance in case of breakdowns or technical issues. Contact our support line for assistance and guidance.
Basic insurance coverage is typically included, but you can opt for additional coverage options for extra peace of mind. Ask about insurance details during the booking process.
Cross-border travel may be allowed, but please notify us in advance and inquire about any restrictions or additional requirements.
Most motorhomes have onboard tanks for sewage and fresh water. You'll need to empty the sewage tank and refill the freshwater tank at designated facilities, such as holiday parks or service stations.
While motorhomes are larger than regular vehicles, most are designed to be driven with a standard driver's license. However, it's a good idea to familiarize yourself with the vehicle's dimensions and handling, especially if you're new to driving larger vehicles.
NEW to our
Motorhome
Hire Fleet
Wingamm City Pro - 2 Berth, 4 Belts, 2 Eelo Electric Folding Bikes
The Wingamm City Pro is a compact motorhome known for it's innovative design, luxurious features, and versatility, making it suitable for both city travel and outdoor adventures.
Available to hire for age 21 and over.
Get in touch
Fill in the online form below and we will be in touch as soon as possible.
ˆ