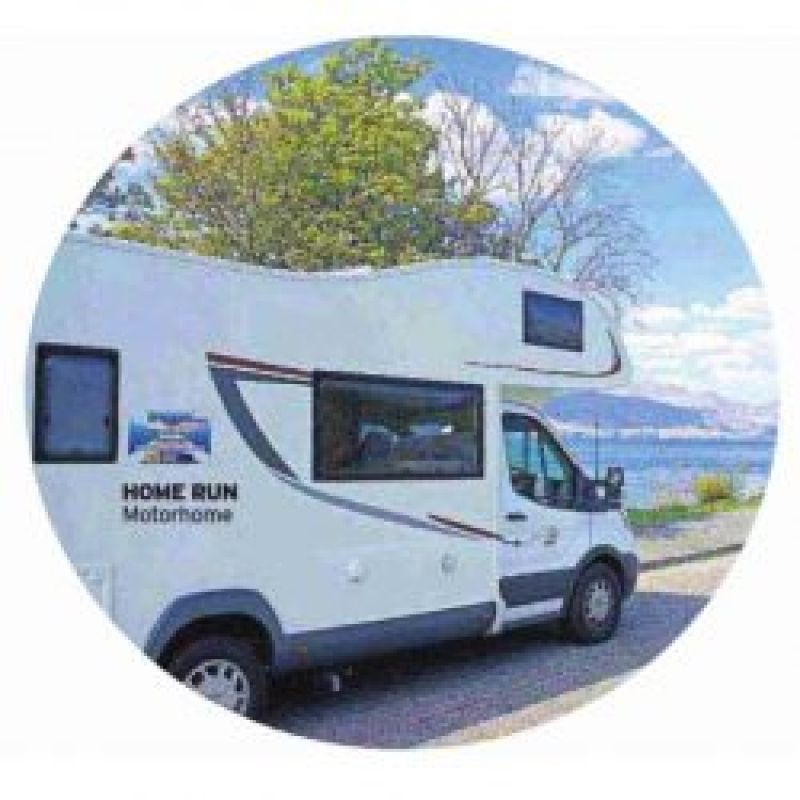 Posted: 23rd, February, 2018
Sunday Mirror Article: BC Motorhomes Sends Family of Five on Rental Adventure
Vanned of the Free
How a motorhome put a family of five on the right road to sea, seals and splendid views of Scotland's West Coast – Article by Alison Phillips
It's morning. And a courageous few rays of sunshine battle through the mist to reach my closed eyelids. I open them to most stunning view imaginable…
Day is rising over the Irish Sea, the waves sparkling in the early light. Just five yards in front of me, shining seals bob and dive beneath the waves then haul themselves on to a rock so they too can lie back for a while and take in the stillness of the view.
I pull my thick, cosy duvet over my shoulders and watch the seals watching the waves. There can be few better ways of getting closer to a place that a motorhome road trip (with the exception of tent camping perhaps, but that would have involved a travel feature full of anecdotes about damp clothes and midges). But no, this is a story of the open road, wide-open skies and opening our eyes to the beauty of Scotland's West Coast.
We are five in our motorhome. Me, my husband and our kids aged 13, 10 and five. None of us has ever been described as small. My eldest son is carrying with him the enormity of early adolescence. Youngest son is carrying three footballs, a rounders bat and rugby ball. Daughter carries her usual load of two "soooo annoying" brothers.
TRUNDLING
I carry the knowledge my husband hates camping. Can we really fit all five of us and our baggage – both actual and emotional – into a motorhome? Only a week driving from south of Glasgow in a loop across the Isle of Arran, across Mull of Kintyre, up to Glencoe and then back down again, will tell.
We set off from BC Motorhomes in Ayr, about 30 minutes from Glasgow. They have a huge selection of vehicles for every size of family and our is a six-berth model with electric oven, gas hob, shower, toilet, fridge and freezer, TV, video and Wifi.
There's a double bed over the driver's seat, two bunk beds at the back and a sofa which converts at night into another two beds. There is also a remarkable amount of storage space. Driving takes a little getting used to, adjusting to it's greater length and width. And parking generally takes more consideration – not getting yourself into a situation you can't get out of. Which I suspect is my husband's concern about the entire trip.
All the same, we're off, trundling just a few miles to get started for our first night in Royal Troon, home of the world-famous Open golf course. On arrival we park up on the seafront, hire some clubs and indulge in a leisurely round. Of crazy golf.
Then, loaded up with food supplies, it's back to the motorhome to find somewhere to park up at night. One of the triumphs of motorhoming is the ability in many places – particularly Scotland – to park up in a quiet spot and spend the night entirely free (of interference and charge) so long as you tidy up behind you. It's as close to the raggle-taggle romantic life as most of us are ever likely to get.
So there isn't the need for booking in advance at campsites, which can always be a tie with tent camping. Also there isn't the kerfuffle of unpacking tent, groundsheets, sleeping bags, cooker, chairs, blow up beds, blow up pillows, blah blah, every time you stop. Everything you need is with you and ready to use. Like a tortoise. So our first night is spent in a shingle car park behind a wood merchants just outside Troon. Which may not sound idyllic, but I still sank a glass of rosé watching the sun set over the mountains on the Isle of Arran. Heading south from the port at Brodick we reached Whiting Bay where we had booked a small campsite on the water's edge, conveniently next door to a pub serving huge plates of fish and chips.
We drank and ate while the children played in the surf (well, pushed each other in) before settling down for a game of cards at the motorhome dining table. I'd previously regarded motorhomes as rather "American" compared to the good old British caravan, but in recent years they've become increasingly popular. No fussing around with hooking up and unhooking. Just get in the cab and go.
On one of our stops I found myself in conversation with a man who'd just purchased his dream motorhome, like ours. Rarely have I seen someone look so happy and at peace to have finally swapped the 9-5 hamster wheel life for his Rollerteam Zefiro steering wheel.
For those unable or unwilling to buy their own motorhome, hiring is the perfect option. For less than the price of a self-catering cottage and with none of the responsibility of road-tax, maintenance and storage you can now hire a vehicle and become king of whichever particular road you fancy.
We motored majestically up the west coast of Arran then took the boat to the Mull of Kintyre – a stunning strip of land, virtually unpopulated, with wild seas views, which seems to be just about getting over Paul McCartney's 1970's warblings. It was here I awoke overlooking the seas and the seals, firm in the opinion that no post hotel could offer such a combination of comfort and closeness. We had of course had one enormous free gift for our trip (aside from our BC Motorhome) – the weather. Early June in Scotland can be capricious. As it was about to prove.
Driving north from the Mull of Kintyre towards Glencoe we hit rain. Or should I say rain hit us, in a fairly aggressive fashion. That evening was spent on the motorhome sofa drinking hot chocolate and watching Stuart Little (twice!) after a third game of Scrabble had to be abandoned due to poor morale (fighting).
Glencoe's eerie splendor was magnificent, however, and when the sun peeped over the top of the mountain next morning it felt as though we were blessed. From there it was southwards, along the banks of Loch Lomond, through the centre of Glasgow and back to Ayr.
Our journey was done. And had we five fitted nicely into our motorhome for the week?
We certainly had – the good bits and the bad bits of us. The motorhome had fitted out needs to be close to each other and close to where we wanted to be really rather perfectly.
Article by Alison Phillips