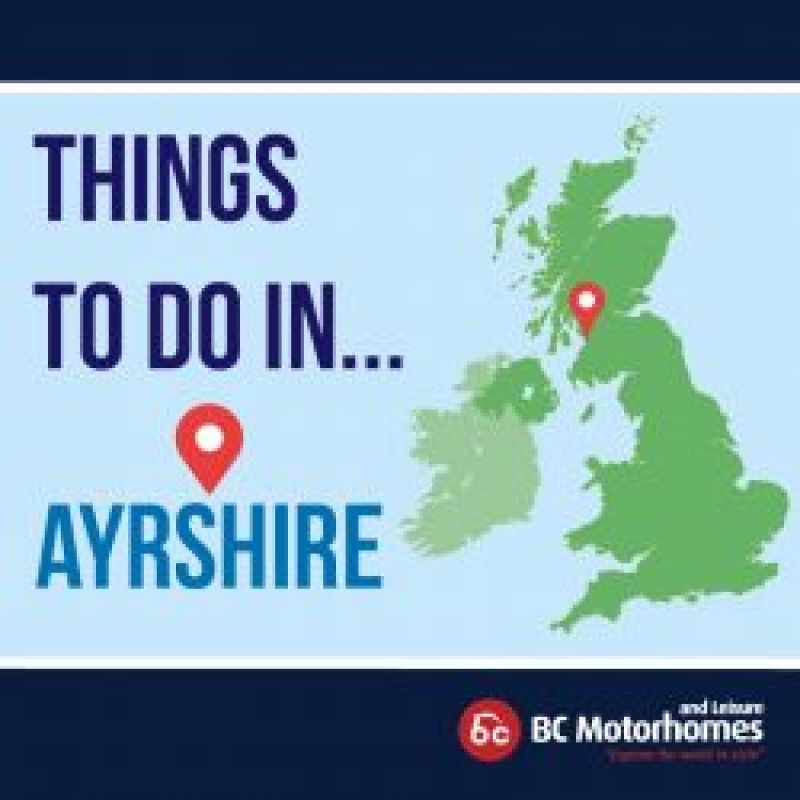 Posted: 23rd, February, 2018
Things to do in Ayrshire!
With summer fast approaching, there are so many holiday options available. For many, a staycation is one of the most appealing in the world's current turbulent state. We live in a very beautiful country and a motorhome holiday is the perfect opportunity to see what our home turf has to offer.
At BC Motorhomes, we are fortunate enough to see and hear about the adventures our motorhome rentals head off on so we've decided to check out some of our favourite places and find out what they have to offer.
Our first stop is a regin that's close to our hearts – Ayrshire.
We are very lucky that we live in a very beautiful and scenic place with plenty to see and do! There are plenty of campsites to book into with your motorhome to use as a base if you wish. Here's our Top 10 things to do when you visit:
Robert Burns birthplace museum
Ayrshire is the home of Robert Burns land and what better way to invest in the local culture than with a visit to Scotland's favourite poets birthplace?
Heads of Ayr Farm Park
Travelling with kids? Heads of Ayr Farm Park will keep them occupied for hours! From meeting animals to playing in the extensive play area, there is plenty to see and do.
Arran Distillery
Travelling without the kids? Jump on a ferry and head to Arran Distillery for a tour and some tasting! The distillery is set beside a waterfall and complete with experience tour guides, an all-day restaurant and gift shop, it is well worth a visit.
Royal Troon Golf Course
Fancy yourself as the next Tiger Woods? The Royal Troon Golf Course is a must for golf lovers. The vast course provides a challenging but exciting golfing experience and the restaurant and clubhouse is set beautifully for the all-important 19th hole. Need some help? Royal Troon Golf Course also offer fantastic tuition opportunities so you can pick up a new hobby on your holiday.
Dumfries House
One of Britain's most beautiful stately homes, entry is strictly by guided tour only. If a trip round the interiors this isn't for you, you can still visit the House, and admission into the grounds is free. With beautiful surroundings and character, there are plenty of scenic walks available.
Goatfell
If the walks around Dumfries House aren't challenging enough, we recommend heading over to Arran to tackle Goatfell. This mountain provides Arran with a beautiful skyline and although reaching the top is no easy feat, you are certainly rewarded by the beautiful scenery when you reach the summit.
Scottish Dark Sky Observatory
This is an experience not to be missed! Located on a hilltop site within the Galloway Forest Dark Sky Park, guests can view the universe on 2 different telescopes during dark night skies. Pre-booked visits, star gazing nights and events are extremely popular so check out what's available before you head along.
West Kilbride Craft Town
West Kilbride sits within North Ayrshire and looks onto Arran. Although small, it offers a wide range of independent retailers and designer shops which complement the cultural feel. If you fancy a relaxed afternoon, pottering in craft shops and soaking up the atmosphere of somewhere different, West Kilbride is the obvious choice.
Dean Castle Country Park
Dean Castle is one of Ayrshires best preserved castles and is a free attraction that is perfect for all the family. The beautiful setting of Dean Castle offers nature walks, adventure playground, urban farm and tearoom, shop and visitor centre.
Troon Beach
Although the weather is not always guaranteed, Troon beach is a beautiful, place to head down to relax and clear the head. If you've brought your furry friends, they will love the freedom. Troon Beach hosts the start and finished of the Troon Tortoises 10k each year in May (of which BC Motorhomes are proud sponsors) so if you're coming in May, don't forget to sign up and bring your running shoes!
We could go on and on about our beautiful region but we recommend coming and trying it for yourself! If you want more information about the places mentioned, visits http://www.visitscotland.com/destinations-maps/ayrshire-arran for more details or ask a member of the BC Motorhomes team who would be happy to help!