About Us
Welcome to BC Motorhomes. Established in 2011, BC Motorhomes is based in Ayr and is part of the Border Cars Group. Our state of the art motorhome complex boasts a wide range of new and pre-owned motorhomes for sale including a superb fleet of rental motorhomes. In addition, we also have a purpose-built motorhome workshop that can accommodate five motorhomes as well as a fully qualified, dedicated team of technicians.
Our on-site accessories shop has everything you need for your motorhome adventure and our team are on hand to offer advice and recommendations. If you need to re-stock, our online shop allows you to browse the range in the comfort of your own home.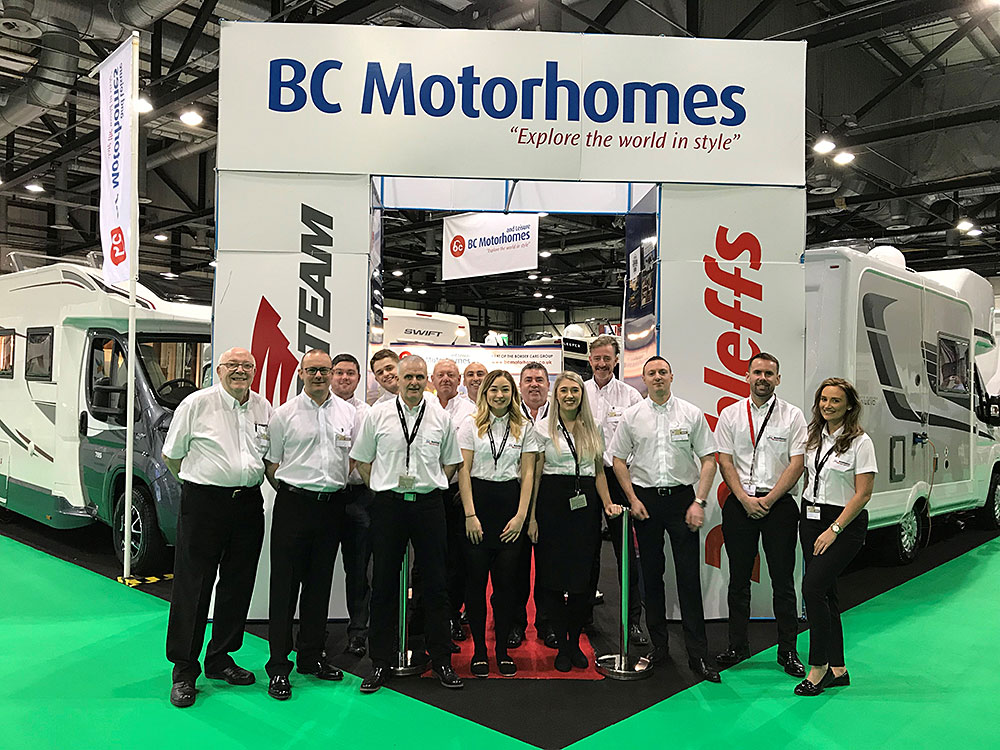 Meet the team
Calum Watson

Business Director

With over 31 years in the Motor Industry, working within both Sales and Aftersales, Calum has a full and varied background in all aspects of the Industry. He has been at the core of BC Motorhomes since it started in 2011. He has excellent leadership qualities and ensures BC Motorhomes meet all our Customers' expectations.

Fraser Beattie

Sales Manager

Fraser has been in the motor industry for over 14 years, and is highly experienced in all things motorhomes, having owned his own over the years. He is committed to giving excellent service and customer care.

Graeme Whitemore

Assistant Sales Manager

Graeme joined the team in 2011, and has a keen interest in all things motorhomes and has been working in the motor industry for over 15 years. With hundreds of miles under his belt, he can advise you on the best model to suit your motorhome needs.

Ewan MacDougall

Sales Executive

Ian Barrie

Sales Executive

Ian Barrie joined BC Motorhomes at the end of 2015 and has settled into his role as Sales Executive.

Catherine Rae

Motorhome Hire Receptionist

Catherine has 17 years' experience within the Motor industry, joining us in 2012 and enjoying helping you find the perfect Hire Vehicle for your up and coming holiday.

Angela Alexander

Service Department

Angela is our Motorhome Service Specialist based in the Service Department at the new Motorhome Workshop and Shop facility. Angela is on hand to look after all of your Motorhome service, MOT, Habitation, gas, warranty and accessory requirements.

Lauren Bell

Service Department

Lauren has just recently joined the family, but has been in the Motor Industry for over 3 years with many more to come.

Michael Townsend

Motorhome Technician

Michael has several years' experience working on Motorhomes including 8 years as a production supervisor at a Motorhome factory in New Zealand.

Louis Burns

Technician

Louis has over 5 years' experience and prides himself on the quality of his work.

Robert Armour

Vehicle Technician

Robert joined our team in 2015, a qualified vehicle technician, well-versed in complex mechanical and electrical systems and has excellent problem-solving abilities, a credit to our team.

Callum Burns

Apprentice Motorhome Technician

Callum joined the team in 2015 as a young school leaver and is currently still working on his Apprenticeship. He hopes to be fully qualified within the next few years and is enjoying learning about all things motorhome.

Angel Galev

Valeter

Angel is our Motorhome Valeter and is a key member of our team. Angel has over 8 years' experience and prides himself on the quality of his work.

Roman Silinek

Valeter

Roman is our Motorhome Valeter and is a valued member of our team.
We are proud to represent Autotrail, Swift, Elddis, Tribute, Bessacarr, Autocruise, Escape, Autosleeper, Dethleffs and Carthago and are delighted to be the number one UK Rollerteam dealer. We are also a main agent for Fiamma and stock a wide range of accessories at our on-site shop.
Customer service is at the heart of our business and we always strive to go the extra mile. All motorhomes are quality checked and prepared to the highest standard. We have Motorhomes to suit all budgets with guaranteed low prices.

We also provide an excellent follow up service with a fully skilled team looking after your servicing needs for all makes and models including habitation checks, MOT tests and repairs.
Don't forget we can deliver nationwide or come and meet our staff who will be happy to help you get on the road to relaxation!
Finance Conduct Authority
Border Cars Group Ltd is registered in Scotland and has the registered office of 130-132 Terregles Street, Dumfries DG2 9DX Company Reg. No. SC508621 VAT Registration Number 216 6301 36
Border Cars Group Ltd is authorised and regulated by the Finance Conduct Authority, registration no. 309061
Border Cars Group Ltd's permission covers advising and arranging with a view to transactions in non-investment insurance contracts. You can check this on the FCA's register by visiting the FCA's website www.fca.gov.uk/register or by contacting the FCA on 0845 606 1234.
Border Cars Group Ltd act as a credit broker sourcing credit to assist with your purchase from a carefully selected panel of lenders. Lenders may pay a fee for these introductions, a guarantor may be required and all offers are subject to status, terms and conditions.